2009 (full set on flickr)

I hate hectic travel. I hate always having to check out and go somewhere. I just want to mellow. In the 2008 trip, we made the mistake of having the attitude "we might not make it back, we need to see everything!". I've since learned that of course you'll make it back if you want to, so just do what you want and have fun. So in 2009 I figured to book 2 a weeks trip instead of 1 so it wouldn't be so hectic. I then made the mistake of planning in even more stupid places to go.

This time I went with another friend, Hildgrim. He's studied in Japan for 2 year so he actually knows the language. I was still largely as clueless as the year before. I could read hiragana, but didn't really know any vocabulary, just little bits and pieces picked up from watching utaban on google video...

We planned in a trip to where his school was, Akita. We also managed to get tickets to Rock In Japan Fes. Going back and forth across the country was not conductive to taking it easy... But it was an awesome trip anyway!

This year I was far more prepared on the phones front. I two had unlocked japanese phones - one softbank one docomo, and we rented a softbank SIM each. I was THRILLED to be able to use the legendary japanese i-mode web stuff for the first time





We also got grins out of putting a SoftBank SIM into a docomo phone - which is only possible due to the grey-market phone unlockers in Hong Kong. Since we were feeling particularly assholish one day, we went into a Softbank store and complained that data didn't work (a known problem with these unlocked phones, since they have no open APN settings), and watched as confusion ensued when they tried to figure out how we had managed to get the unholy union to work.





Getting out at Shibuya station first thing is always a welcome start to a Japan trip! Note the HMV that no longer exists.





Like everyone else I make a point of taking pictures of any Engrish I come across... You'll see a lot of these...





Let me say one thing: I *LOVE* japanese hotels. Especially the cheap-ass smoke-filled business hotels. Japanese always have the three things most dear to me: (1) fast, wired, internet. (2) beer vending machines (3) empty refridgerators to fill with whatever you want (no fucking minibars)





The doors can be a bit small though...





This trip also introduced me to another thing I'd come to love - the family restaurant. Gusto, Saizeriya, that other one... They're cheap, the service is great (the buttons on your table to press to get a waitress!) and decent, consistent food.





One thing I miss in the west is huge outdoor billboards for porno publishers. Also, a porn publisher is a perfect pusher for an anti-STD campaign...





I'm a huuuge sucker for retro can designs. These have gotten super popular lately, but even back in 2009 they were around





And to contrast to 2008, here's the new docomo store design. Looks much nicer and more modern, but it's not nearly as quirky and unique anymore.





I have no idea why they chose to demo headphones with an Obama mask. Of course, it's Yodobashi Camera!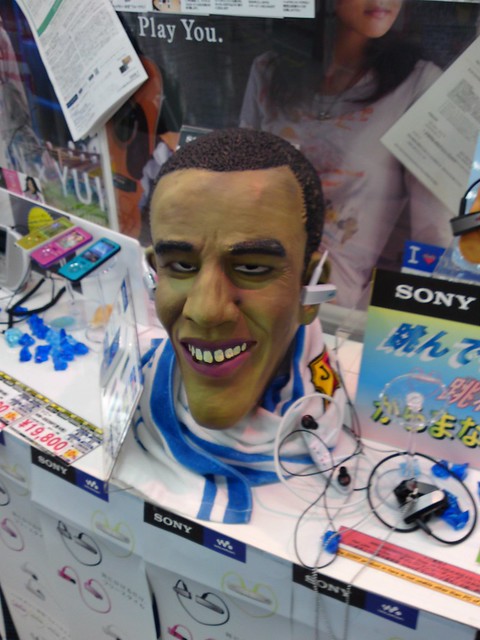 One restaurant I always make a point to eat at when I'm in Tokyo is Pepper Lunch - you get your steak raw on a sizzling hot iron, and get to fry it yourself piece by piece right before eating it. Fun, fresh, and tasty!





More engrish! At least this one has a cute girl to distract your for a bit.





At this point, I actually bought a digital camera instead of using my cell phone exclusively. The phone had a great camera, but it lacked two things: zoom, and decent video. The one I got was compact yet had a 12x lens, and 720p video.





Osaka: Den of debauchery, home of yummy food, and a million little side streets to get lost in. I've spent more time than I want to here, just because I get lost!





Japanese Beer Gardens. LOVE THEM. All you can drink beer, all you can eat buffet. Outside in the summer heat on a rooftop. What else could you want? (Maybe an actual garden would be nice...) You can tell this was the year of Obama in Japan...





Our hotel in Osaka had crappy TV reception, so it gave me a chance to whip out my jap-phone and use the 1seg TV feature on it. The phone got in 7 channels, the TV only 1. A slight difference in screen size though...





When I said in 2008 that you can get ANYTHING at Tokyu Hands, that includes a camera to shove into your ear and check for wax buildup.





So, we followed my advice from the last post and when we were hungry, just dove into what ever was closest. So... this place served only an 8000 yen sushi course. Very steep, but where else will you get sushi like here? We decided to split it among us. Did. Not. Disappoint. The chef was right there in front of us and wouldn't allow us to eat with sticks, you have to eat with your hands to experience the true flavor!





Holy shit, tako-frickin-yaki. I was apprehensive at first, since "ocotopus balls" sounds amazingly gross, but then I had one and... I burned my tongue off. Well, that's what happens when you eat Takoyaki. When I regained my flavor-sensing, I reveled in how damn good they are. Now I'll eat them any chance I get.





As it happens in Japan, every day is a festival in some town, and today happened to be one where we sat down to eat our octopus balls, so we were treated to a show of people rowing a boat back and forth wearing boxer shorts.





My friend is a big anime nerd, so he had looked up what kind of events were going on, and found an itasha event. It was also somehow scheduled at the same time and places as a junior idol competition, weird that! We got to see some really tricked out cars though. I wonder if any of these people drive their cars in public.




Including this one for the K-ON cosplayers in the background





Hehe, the Price Rist for the Rounge. I wonder if it was intentional? Self-mocking? Japanese internet cafés are another brilliant concept I haven't seen elsewhere. You get a private booth for fapping, either with a nice chair or a mat to sit on, usually free soft drinks included. They'll have showers, manga and other facitilites. Basically anything an otaku needs to live. After issues with underage kids using them as love hotels, you now have to register to get a membership to enter, so bring your passport.





I love the tiny random shrines you find just walking through a neighborhood.





Ah the dark days for me before I saw the light...





Here's one for the alcoholic crew: 4 liter plastic bottles of whiskey...





We flew from Nagoya to Akita. This was a very cute flight, not only due to the tiny plane, but since this is such a rural route, they probably never get foreigners on it. The FA's had super-cute fail english, and the safety announcements were impossible to understand. The in-flight magazine in the seat backs was japanese-only, so the FAs came out with english versions and asked if we wanted them. Moé :3





They made us check in our umbrella though, that's just dumb. It was ridiculous seeing it come out on the baggage belt...





Pokémon are everywhere.





So are train molesters, which is a crime as this sign points out





Blatant encouragement of copyright infringement wasn't a problem. This mook listed Jpopsuki as the best place to download J-pop... no wonder they had so many leechers.





Another one of the happiest days of my phone-nerd life: figuring out how to set up mobile suica!! This is the thing where you can charge money to your phone, and then tap it on the turnstile when entering a train station. No wallet needed.





Japan has some big-ass bugs





For some reason they also love drinks with bits of jelly floating around in them. Luckily, I do too! It makes drinking more fun when you get something to chew on every now and again.





Speaking of drinks, every year Pepsi releases some weird-ass flavor for some easy PR. You may have heard of the Watermelon Pepsi. In 2009 it was Pepsi Shiso, and I loved the fuck out of that shit. Why can't they bring it back :(





As we went to find a coin laundry, we run across another random neighborhood festival. During the summer you can't spit without hitting a festival.





If you want to suicide in Japan, one of the best options may be a rural shinkansen station. They're so abandoned that the bullet trains that don't stop at the small stations blast by at full speed. The windows would rattle and the wind would suck us over to the tracks whenever one went by. You'd be pulverized in milliseconds.





Now we make it to the thing we were looking forward to the most on the trip - Rock in Japan fes! Since all the hotels anywhere nearby were fully booked far in advance, we had to take the first train of the morning every day. Everyone you see here is on their way to the festival.




ktkr





If you can make it to a japanese music festival - do not hestitate even if you don't know any bands or whatever - GO! It'll be an amazing experience, I promise. The people are awesome and you'll find all kinds of new cool music just by wandering between stages.





People waiting for Perfume...





Photography was forbidden, so I had to be stealthy. This photo now gets to represent Perfume on Wikipedia :), I guess since there aren't many other fan photos.





Speaking of Wikipedia, they're so desperate for non-copyrighted photos of J-celebs that this photo represents Kimura Kaela on wikipedia:





Japanese festival food will be familiar...





They also have a tent for bukkake (udon)






DANISH COIN LAUNDRY COMES OUT OF NOWHERE





The Japanese looove their cash. I went to buy a MacBook Pro, and they said that I could get enough points to get a TV out cable for free... as long as I paid in cash instead of using my debit card. So I went to the nearest 7-11 ATM and got 170,000 yen in cash, enough to buy a MacBook... Hey, it worked! And made for a sickbrag photo.





The first day of Rock in Japan Fes I managed to get a horrible sunburn. They had a medical tent that sold first aid stuff, but they didn't sell sunblock! So I was totally fucked. When I got back to my hotel in the evening, my forehead was burnt so badly, puss was coming out. I looked like a beet. Live and you learn, eh? PROTECT YOUR SKIN IF YOU'RE A WHITE-ASS. At least it meant I got to freak out some poor maid.





The lighting for the Gundam was broken when we went, so we just got disappointing photos :( LET-DOWN =[





Back then, emailed tickets that you scanned off your phone's screen were still a novelty





And that was the end of that trip. Again, spent way too much time checking in and out of hotels and taking airplanes and trains. At least with a fluent Japanese speaker, I got to eat better and in general just dared to do more things. After this trip I had learned the ropes a bit, and next time I could dare to go on my own.

Which I did in the next installment: 2010