There is definitely something funky going on with SCSI on this PowerBook
Posted 2023-01-11 | Back to blog index
There is definitely something funky going on with SCSI on this PowerBook
Last time: Used the broken BlueSCSI and the internal SCSI2SD got totally messed up and would not even show up in target disk mode
Today:
Put a boot CD image and blank HDD image on the new, working BlueSCSI. Tested it on PB G3, worked great
Plugged it into the 540c - and now it suddenly boots fine from the internal SCSI2SD!
But instead the new BlueSCSI doesn't work!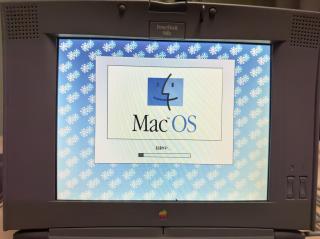 The new BlueSCSI will show up fine in FWB but nothing will mount it. FWB also fails to reformat it.
The HDD image was originally formatted on the PB G3 (connected via SCSI and showing up fine) and the CD image showed up fine on there as well.
The CD-ROM driver installed is Apple's.
Also sometimes re-booting with it in causes question mark floppy drive. Unplug and reboot and you're fine again, booting from the internal SCSI2SD.
Bah, who needs SCSI anyway? I have an SD card, that's fast enough to transfer files directly from a modern Mac. Thank God Ventura still supports HFS+!